. . . from 6 years ago
I bought a "stereo" from another guy at high school composed of a Digital Designs 15″ subwoofer and a Nexus Jaguar 1100 watt amplifier when I was a sophomore in high school. I've been digging through the electronics off and on for the last couple of years. I finally got it out again yesterday and immediately noticed that the bank of 6 power filter capacitors in the center were pretty bulgy. I tried desoldering them (with the aid of a 1500W heat gun to "preheat") and to no avail, I got a single capacitor out with the through hole plating still stuck to the legs – so that pad is dead. . . I took a look online to find the cheapest substitute was about $35/each and quickly realized that this wasn't worth it at all.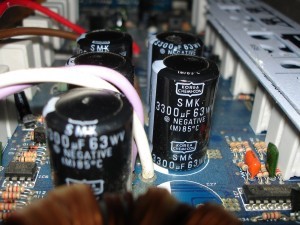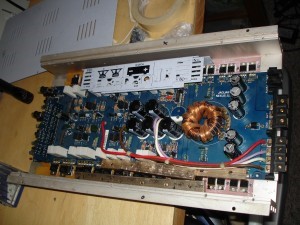 So the former neighborhood terrorizer will be surrendered into the "spare parts bin" to live on in whatever may need parts off of it.